How is the Oakley Holbrook XL Sunglasses Designed?
Oakley Holbrook XL are designed to be a classic style with a modern edge. They're perfect for men or women and have a universally flattering rectangular shape. The Oakley lenses are treated with Oakley's High Definition Optics (HDO) for unparalleled clarity and protection, and the frames are made of lightweight O Matter for all-day comfort. Plus, the XL edition has larger lenses for greater coverage and an updated design.
What Inspired The Design of the Oakley Holbrook XL Sunglasses?
The Oakley Holbrook XL sunglasses were inspired by the clean lines and original style of the classic 50s American frame. We designed them with a contemporary twist to appeal to those who seek originality and authenticity in their eyewear. The frame is made of lightweight O-Matter material, and the lenses feature High Definition Optics for clear, crisp vision.
The XL lenses are designed to provide greater coverage and protection from the sun's harmful UV rays. Plus, they include Iridium coating that reduces glare and enhances contrast. So whether you're out on the town or hitting the beach, the Oakleys Holbrook XL sunglasses will keep you looking cool and stylish.
What Materials Were Used to Make the Frames of the Oakley Holbrook XL Prizm Polarized Sunglasses?
While the exact material used in the frames of Oakley Holbrook XL Prizm Polarized sunglasses is a trade secret, they are likely made of some type of plastic. Oakley is a well-known manufacturer of sunglasses and other sporting gear, and they use a variety of materials in their products, including metals, plastics, and various types of synthetic fibers.
Since the early 2000s, Oakley has been using a type of polarized lens called Prizm. This lens is designed to enhance color and contrast, making it ideally suited for activities such as fishing, golfing, or driving. The lenses are also treated with a coating that helps to repel water and dust.
Where is The Oakley OO9417 Holbrook XL Manufactured?
The Oakley OO9417 Holbrook XL sunglasses are manufactured in Italy. These stylish shades feature a wrap-around frame that is perfect for those with medium to large faces. The XL lens size provides excellent coverage and protection from the sun's harmful rays. Oakley uses the latest in optical technology to ensure that its lenses provide superior clarity and crystal clear vision protection.
The brand's signature High Definition Optics (HDO) allows wearers to see clearly and distortion-free. The Holbrook XL also features Plutonite lens material that filters out 100% of all UV rays, keeping your eyes safe from harmful sun exposure.
What Are Some of The Unique Features of the OO9417 Sunglasses?
The oo9417 sunglasses are a great choice for those who are looking for something different. They offer a unique style that is perfect for standing out from the crowd. Here are some of the unique features of the oo9417 sunglasses: 
The Oakley sunglasses have an oval shape that is very flattering and unique. They come in a variety of colors, including black, brown, and tortoise. The lenses are pink-tinted and offer 100% UV protection. The frames are made from lightweight acetate, making them extremely comfortable to wear. The glasses also feature spring hinges, which allow them to fit comfortably on a variety of face shapes.
How Much Do Oakley OO9417 Holbrook XL Sunglasses Cost?
When it comes to Oakley OO9417 Holbrook XL sunglasses, you can expect to pay anywhere from $200 to $300 for a pair. This price range varies depending on where you purchase them, with some retailers offering lower prices than others. Additionally, the type of lens you choose will also impact the cost. For example, polarized lenses tend to be more expensive than non-polarized ones.
Ultimately, the decision of how much to spend on a pair of Oakley 009417 is up to you. However, rest assured knowing that you're getting a superior optical quality product no matter how much you end up paying.
How To Know if The Oakley Holbrook XL OO9417 is Authentic?
If you're looking to buy the Oakley Holbrook XL OO9417 (or any other Oakley product for that matter), it's important to make sure that you're getting an authentic item. There are a number of ways to tell if an Oakley product is real or fake, and we've put together a brief guide to help you out.
One way to tell if an Oakley product is authentic is by checking the packaging. All genuine Oakley products will come in official Oakley packaging, which is typically black or white with the company logo prominently displayed. If the product you're looking at doesn't come in this type of packaging, it's likely a fake.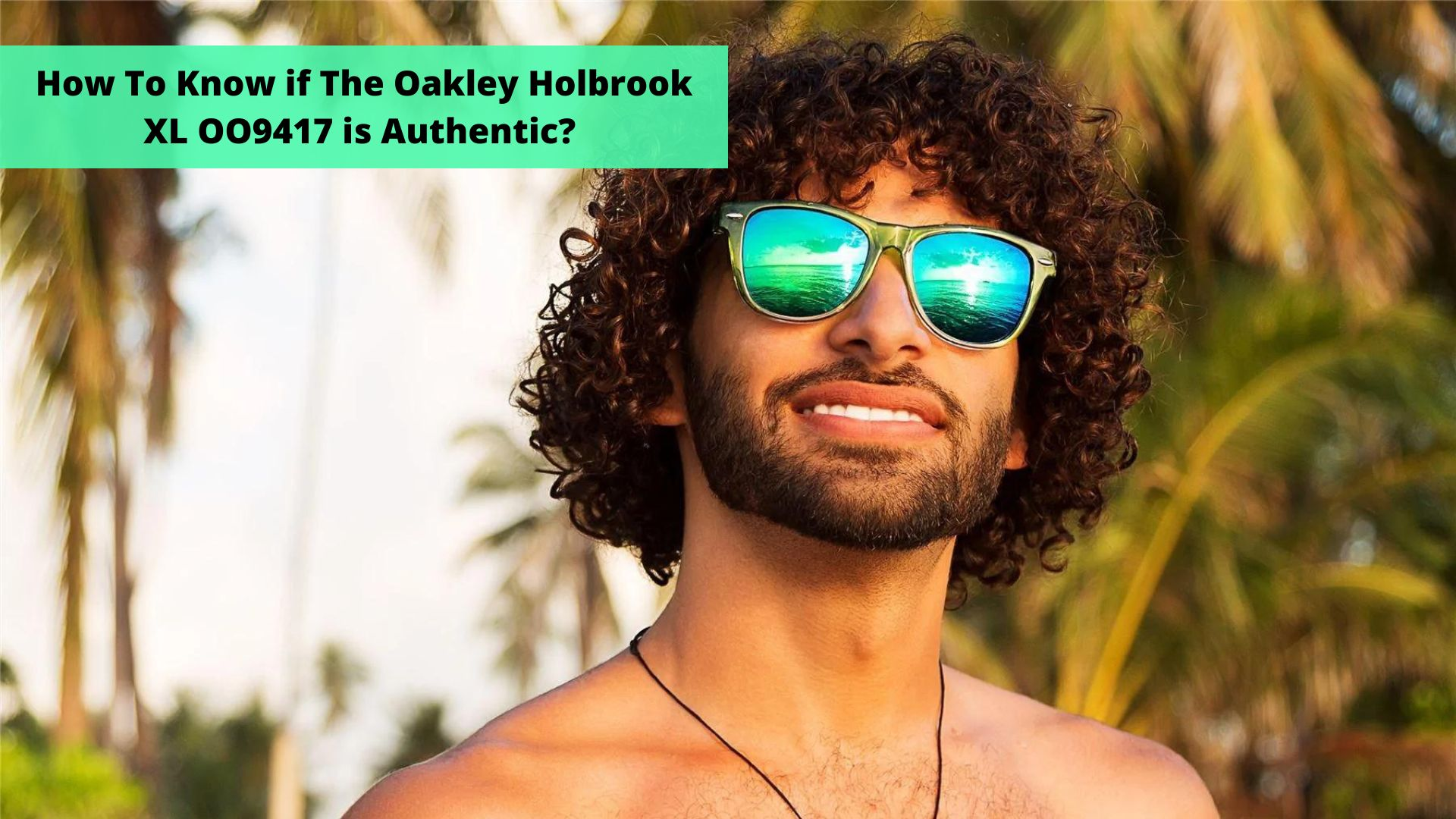 How Many Sizes Does Oakley XL Holbrook Have?
The Oakley XL Holbrook sunglasses come in three different sizes – small, medium, and large. Each size is designed to fit a specific head size, so it's important to choose the right one for you. Small fits heads measuring 52-55cm, medium fits 55-58cm, and large fits 58-61cm. 
If you're unsure of your head size, you can measure it yourself with a tape measure. Start by measuring the circumference of your head just above your ears – make sure the tape measure is level all the way around. Once you have your measurements, refer to the sizing chart above to choose the correct size.
Where To Purchase Authentic Oakley Sunglasses Holbrook XL?
There are a few different places where you can purchase Authentic Oakley Sunglasses Holbrook XL. One place is Eyeglasses123. The advantage of purchasing from the us is that you know you're getting authentic sunglasses. Contact us today and get your own pair!  
Thoughts
Oakley has done it again with the release of their newest XL Holbrook sunglasses. The design was inspired by some of the most iconic styles in history and is now available in a polarized lens version. With so many features, it's no wonder that these sunglasses are one of our best sellers. If you want to purchase a pair for yourself, be sure to check www.eyeglasses123.com for all the latest information on where to find Holbrook XL Oakley.