How To Make Sure My Oakley Chamfer Eyeglasses Fit?
When choosing a pair of Oakley Chamfer eyeglasses, it's essential to ensure they fit well. The last thing you want is for your glasses to slip down your nose or feel uncomfortable after a long day of wear even with contact lenses. Fortunately, there are a few easy ways to ensure a good fit.
Start by measuring the width of your face. Oakley chamfer glasses come in three widths, so you'll want to ensure you choose the correct size. Next, take into account your face shape. You'll want to choose more oval frames if you have a rounder face. Finally, pay attention to the temples of the glasses. They should sit comfortably behind your ears without putting too much pressure on them and must have precise optical alignment with prescription lenses.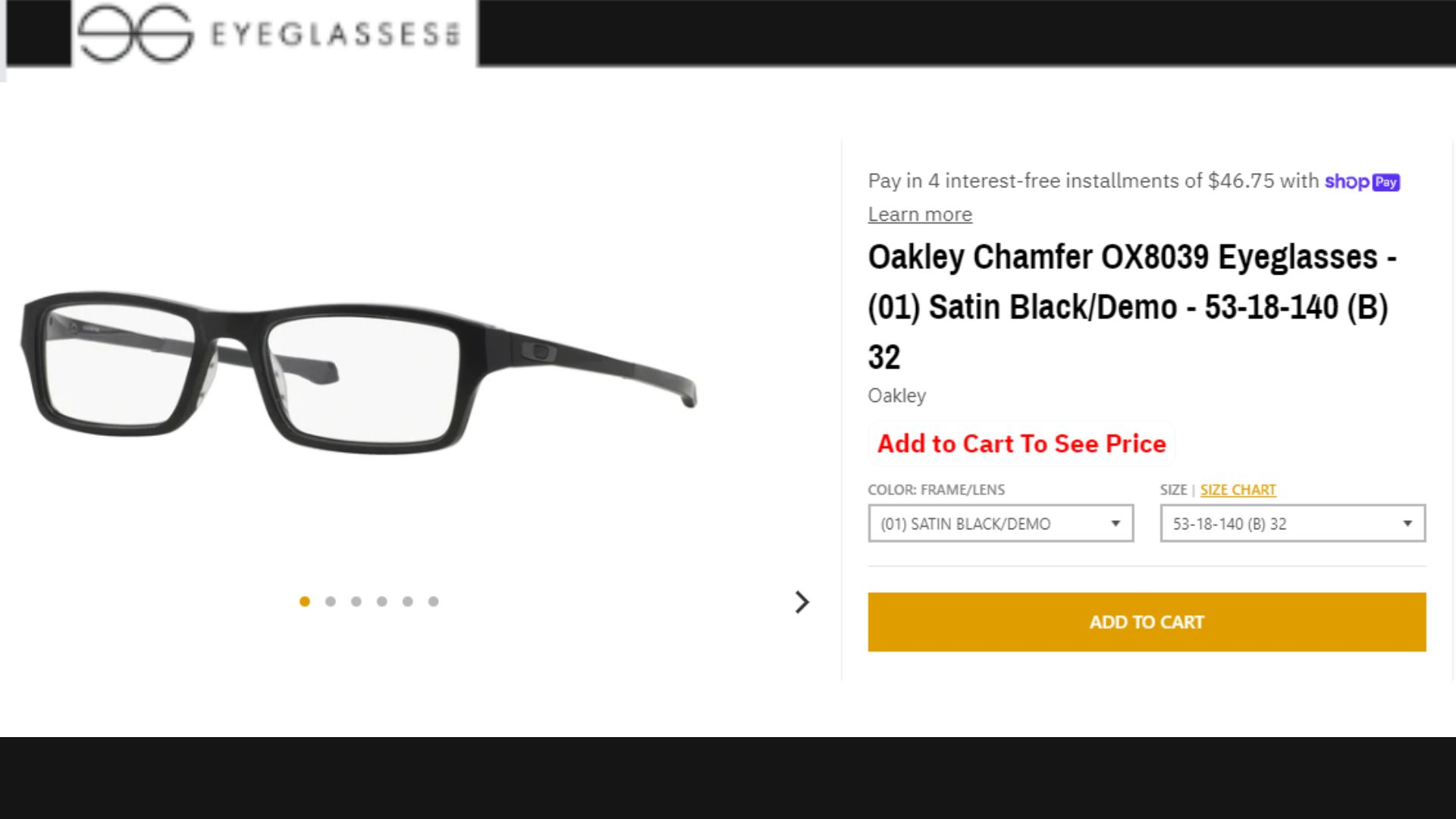 How To Determine The Size Of Your Oakley Chamfer Glasses?
Oakley Chamfer glasses come in various sizes, so choosing the right size for your face is essential. The best way to determine the size of your Oakley Chamfer glasses is to measure the width of your face. To do this, place a ruler or tape measure at the temples of your face and measure from temple to temple. Next, measure the height of your face from the bridge of your nose to the bottom of your chin. Once you have these two measurements, you can consult the Oakley Chamfer size chart to find the perfect pair of glasses for your face. With Oakley chamfer glasses, you'll find a comfortable and stylish pair of glasses that fit you perfectly and add prescription lenses.
What Should You Do if The Oakley Chamfer Squared Won't Fit?
If you've been having trouble getting your Oakley Chamfer Squared eyeglasses to fit appropriately, there are a few things you can do to try and improve the situation. First, ensure that the frames are clean and free of any debris or residue that could prevent them from sitting flush against your face. If that doesn't work, sometimes adjusting the temples can make a big difference. Even a tiny change in angle can make a big difference. If all else fails, take them to your local Oakley store or authorized retailer and see if they can help you find a better-fitting pair of glasses. With a little trial and error, you should be able to get the perfect fit for your Chamfer Squares than other brands!
How To Know If My Oakley Chamfer OX8039 Are Too Wide?
One of the most common questions we get from Oakley Chamfer OX8039 buyers is whether or not their frames are too wide or with single vision lenses. There's no easy answer, as face shapes vary significantly from person to person with premium services. However, there are a few general tips that can help you determine if your Oakleys are too wide:
Take a close look at the frames in the mirror. If the edges extend past the sides of your face or the lenses seem excessively large, then the glasses are likely too wide for you.

Oakley chamfer ox8039 buyers should try several pairs before settling on a particular frame size. This will give you a better sense of what looks best on your face.

Remember that Oakley is designed to be worn slightly above the eye line.
If the frames sit too low on your nose, they will accentuate any widening of your face. Ultimately, though, Oakley chamfer ox8039 buyers need to choose the pair that looks and feels best for them. With so many different styles available, there's sure to be a perfect fit for everyone.
What Are The Sizes Available For Oakley Chamfer OX8039 Eyeglasses?
The Oakley Chamfer OX8039 glasses come in three different sizes. The first size is for people with small faces, the second is for people with medium-sized faces, and the third is for people with large faces. Each size has its benefits and drawbacks, so choosing the right size for your needs is essential. The small size is excellent for people who want a sleek and stylish look, but it may not be suitable for people who need to wear glasses for long periods. 
The medium is an excellent all-purpose size that will be comfortable for most people, but it may not be the best choice for people with very active lifestyles you should select your vision needs. The large size is perfect for people who need to wear glasses for extended periods or have hectic lifestyles, but it may not be the most flattering option for people with smaller faces. No matter what your needs are, there is an Oakley Chamfer OX8039 size that will be perfect for you.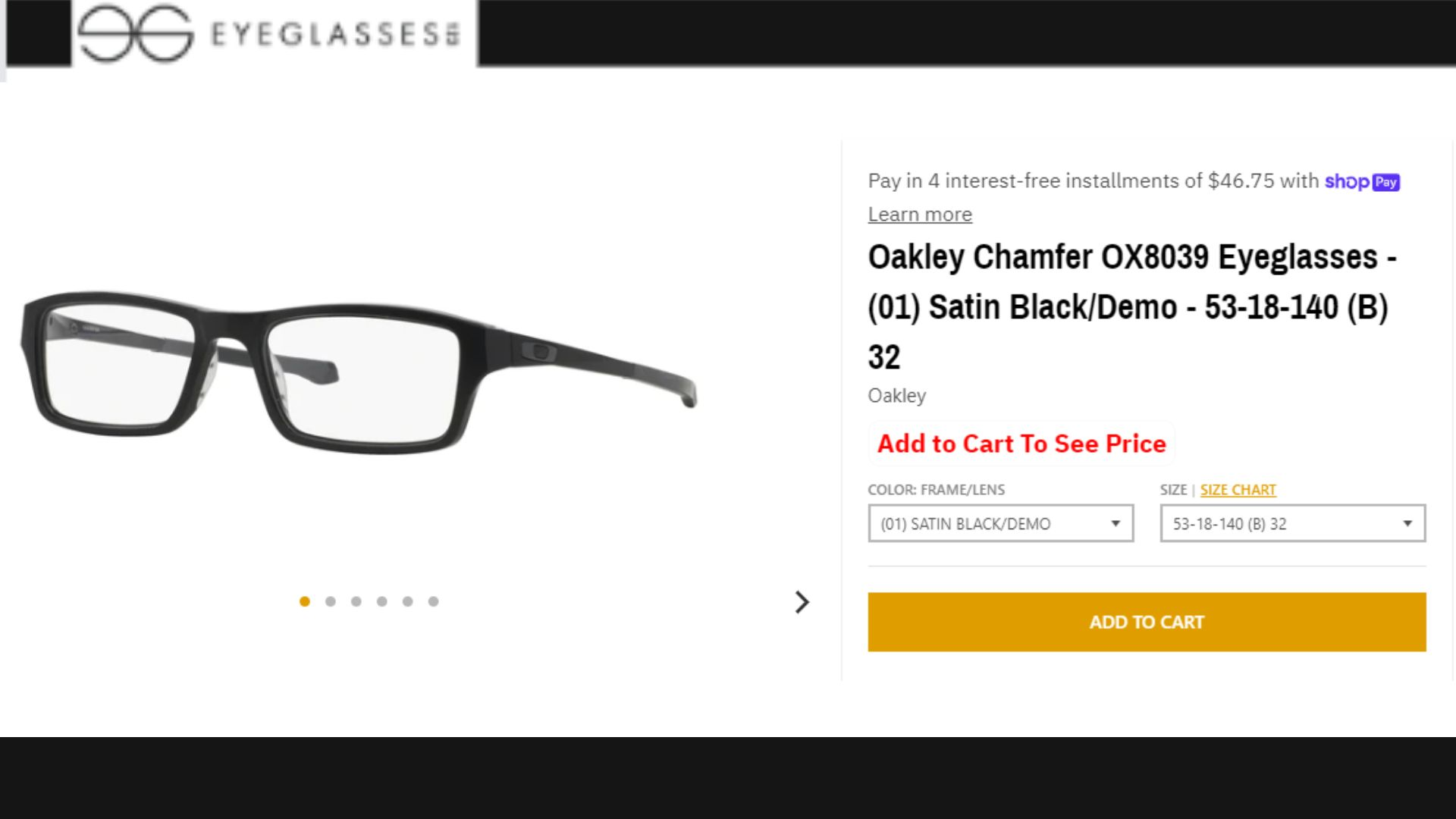 How Can I Adjust The Oakley OX8039 Frames?
If you're looking for a pair of stylish and comfortable frames, look no further than the Oakley OX8039 frames. These frames are designed to provide a perfect fit and come in various styles to suit your individual taste. But how can you ensure that you're getting the best fit possible with lenses in precise optical? Here are a few tips:
First, ensure that the lens size is correct for your face. The best way to do this is to measure your pupil distance and compare it to the frame size. If the pupil distance is too small or too large, the frames will not fit properly
Second, take into account the different nose bridge options. Some people prefer a narrower nose bridge, while others need a wider one. Oakley ox8039 offers both options, so you can choose the one that's right for you.
Finally, make sure that the ear stems are adjustable. This way, you can ensure that the frames stay secure on your head, even if you're moving around or sweating. Oakley ox8039 offers adjustable and non-adjustable ear stems so you can choose the right option.
What Is The Most Common Size For OX8039 Oakley Frames?
Oakley frames come in various sizes, but the most common size is the medium. This size frame works well for people with average-sized faces and provides good eye coverage that holds lenses in precise lens width. The lenses in this size frame are also large enough to provide good visibility but not so large that they obstruct your view measurements listed intended and measured in millimeters and estimate how they'll fit. If you are looking for a pair of ox8039 Oakley frames that will fit well and look great, then the medium size is the way to go.
What Are The Best Way To Measure My Chamfer Oakley?
There are a few different ways to measure your chamfer Oakley, but using a measuring tape is the best. First, measure the distance from the center of your pupils to the outer edge of your frames. Next, measure from the top of your brow to the bottom of your chin. Finally, measure from ear to ear. Once you have these measurements, you can compare them to the Chamfer Oakley size chart to find the perfect fit and as replacements as an Oakley glasses.
Do All OX8039 Oakley Eyeglasses Have The Same Measurements?
Oakley chamfer OX8039 has a vertical width of 54mm and a horizontal width of 63mm. The focal length is 36mm, and the bridge is 16mm. The temple length is 140mm. The Oakley chamfer OX8039 measurements are different from other Oakley models because of its unique chamfer design. This Oakley model also has an 8-base wrap, meaning that the Oakley lenses will wrap around your head more than other Oakley models with interchangeable icons.
This is to provide you with more protection from the sun's harmful rays. Overall, the Oakley chamfer OX8039 is an excellent choice for those looking for a unique and stylish pair of eyeglasses with Oakley authentic prescription lenses that are listed as intended for customer use.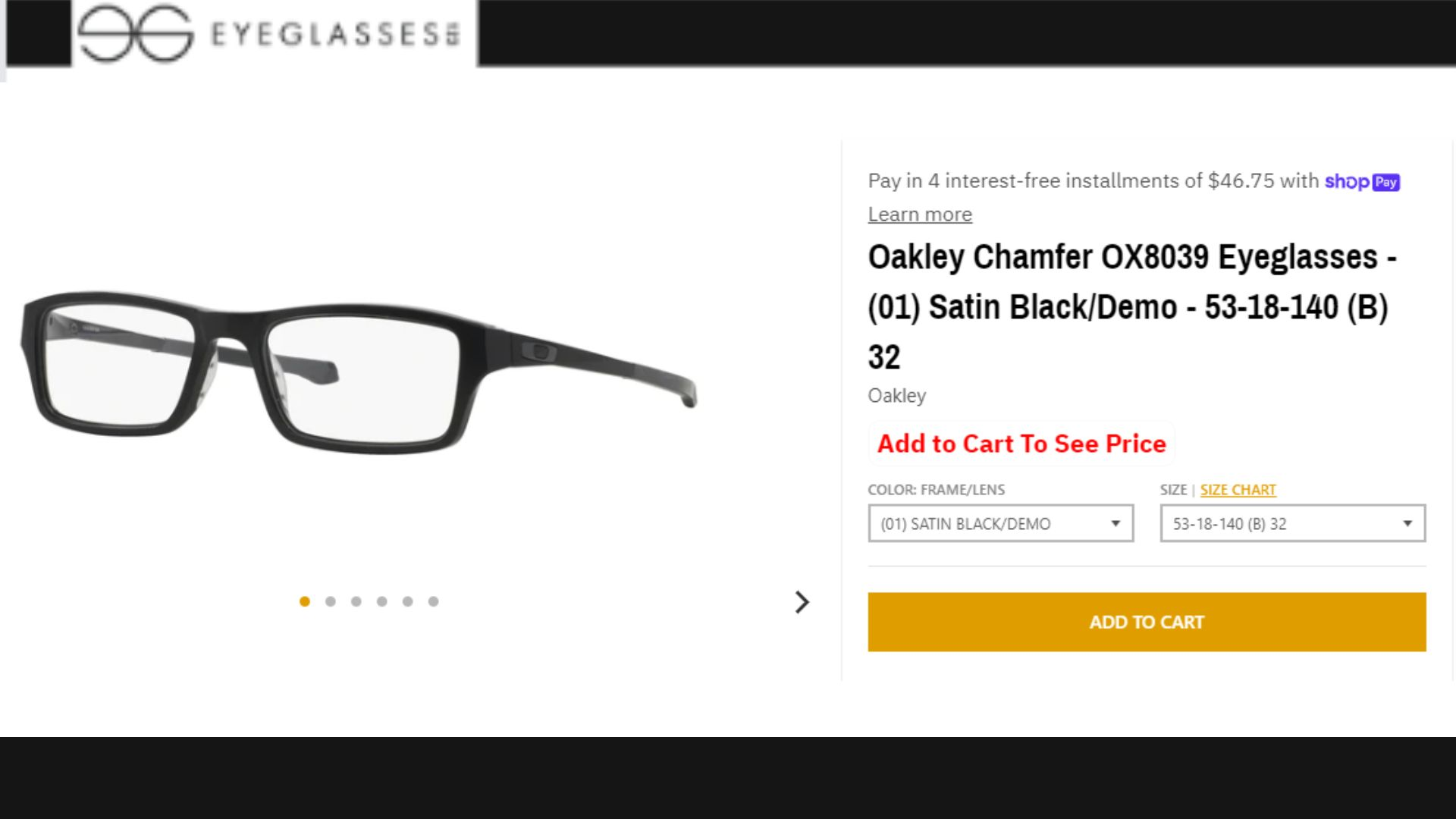 Thoughts
The Oakley Chamfer OX8039 is an excellent choice for people who want sleek and stylish eyeglasses. The glasses are available in three different sizes to choose the right size for your needs. Additionally, the frames are adjustable so that you can ensure a perfect fit. Finally, the lenses in this size frame are large enough to provide good visibility but not so large that they obstruct your view with opticians to fill prescriptions as premium brands. Shop favorites at Eyeglasses123.com and enjoy the Oakley MVP account.