Why Are Oakley Cartridge Eyeglasses So Popular Among Professionals? 
Oakley cartridge glasses are popular among professionals because they provide superior protection against blue light. Blue light is a high-energy visible light emitted by digital screens, such as computers, laptops, and smartphones. Exposure to blue light can cause digital eye strain, leading to headaches, dry eyes, and fatigue.
Oakley cartridge glasses have a special coating that helps to filter out blue light, making them an ideal choice for people who spend long hours working on computers or staring at screens. In addition to protecting against digital eye strain, Oakley cartridge glasses offer superior clarity and contrast, making them an excellent choice for people who need to see clearly.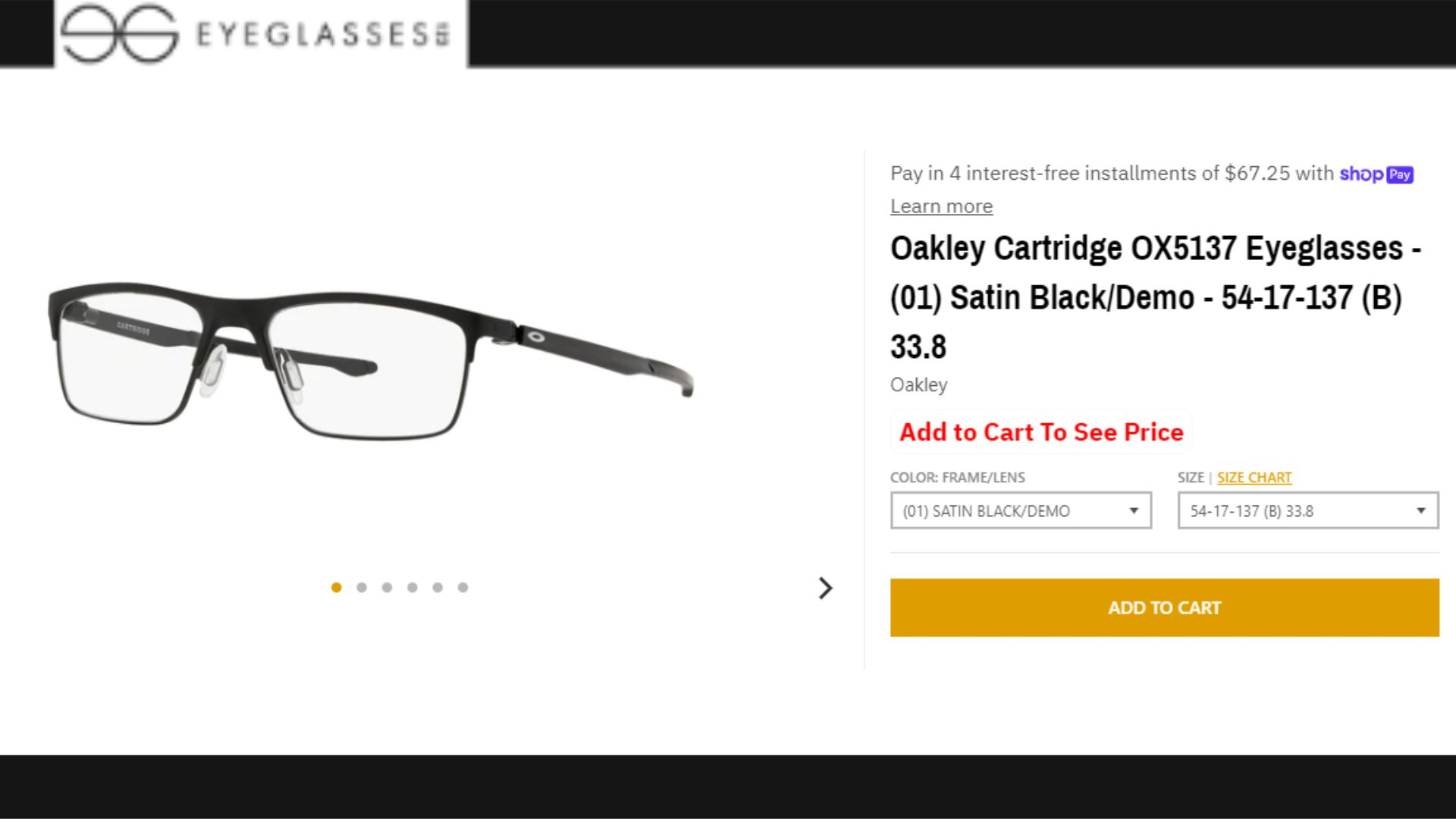 Do Oakley Cartridge Glasses Give a Professional Look?
Many believe that Oakley cartridge glasses give a person a more professional look. This is because the Oakley brand is typically associated with high-end products and is known for quality craftsmanship. Additionally, Oakley glasses are sleek and stylish, giving someone a polished appearance. However, it is essential to remember that Oakley glasses are not necessarily appropriate for all occasions.
For example, if you are going to be interviewed for a job, it might be best to wear more traditional-looking eyeglasses. Whether or not Oakley glasses convey a professional image is up to the individual as it has a wide prescription range.
Are The Oakley Cartridge OX5137 Eyeglasses Perfect For Everyday Activities?
The Oakley Cartridge OX5137 is an excellent option for people who live an active lifestyle. These glasses are ideal for everyday activities. The lenses are scratch-resistant and provide 100% UV Oakley cartridge ox5137 eyeglasses protection, making them ideal for outdoor activities. 
The frame is also designed to be comfortable and secure, with adjustable nose pads and temples that provide a custom fit. 
Plus, the Oakley Cartridge ox5137 eyeglasses come equipped with Oakley's exclusive HDPolarized lens technology, which eliminates glare and improves clarity. 
Whether you're hitting the trails or running errands, the Oakley Cartridge OX5137 is an excellent choice for those who want reliable eye protection and superior style.
How To Determine if Oakley OX5137 Cartridge Are The Right Fit For You?
The Oakley ox5137 cartridge is a high-quality product known for its durability. Many people have purchased this product and have been satisfied with its performance. The Oakley company has a good reputation for manufacturing high-quality products that last a long time. This product is no different. It is made with the highest quality materials and will provide you with the same level of satisfaction as their other products. To determine if the Oakley ox5137 cartridge is the right fit, it is essential to consider your personal needs and preferences.
This is the right choice if you are looking for a durable product that will last a long time. However, if you are looking for a cheaper alternative without falsely advertised prices made from frame purchases, you may want to look at other options. Overall, the Oakley company makes high-quality products built to last, so you can be sure that their products will meet your needs and expectations.
Do They Offer More Protection Than Other Types of Oakley Eyeglasses?
Oakley eyeglasses are known for their high quality and durability. But do they offer more protection than other types of eyeglasses?
Oakley eyeglasses are made with a particular type of plastic designed to be shatterproof. If you accidentally drop your glasses, they are less likely to break. And if they do break, the pieces will be less sharp and unlikely to cause injury.
Oakley lenses are also treated with a special coating that helps to protect your eyes from harmful UV rays. This is especially important if you spend a lot of time outdoors.
So, while other types of eyeglasses may offer some level of protection, Oakley eyeglasses provide the best protection against accidents and harmful UV rays.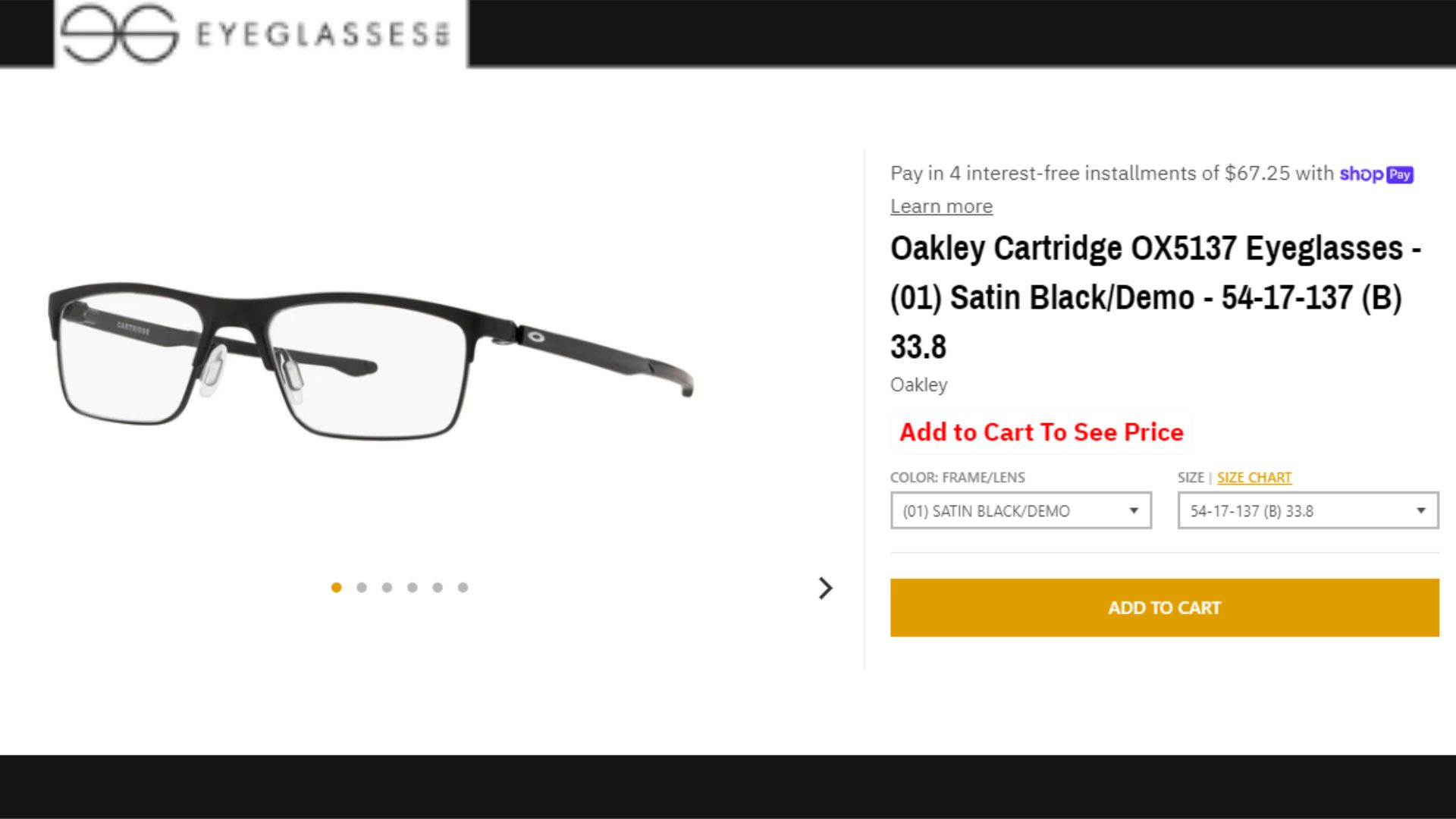 Who Should Wear Oakley OX5137 Eyeglasses?
Those looking for stylish and modern eyeglasses will love the Oakley OX5137. This frame is perfect for men and women, and its sleek design is sure to turn heads. The OX5137 is made from lightweight stainless steel with sleek linear temples, making it both comfortable and durable. Additionally, its spring hinges provide a secure fit, and the adjustable nose pads ensure a customized fit. Whether you're looking for a new pair of everyday glasses or a trendy pair for special occasions, the Oakley OX5137 is an excellent option.
How Do You Choose The Right Oakley Cartridge Frames For You?
There are a few considerations you should factor in when choosing Oakley cartridge optical frames:
The size of the frame. You'll want to ensure the structure is large enough to comfortably fit your face without being too loose or tight with precise optical alignment.

The material of the frame. Oakley cartridge frames are available in metal and plastic, so you'll want to choose the best material that suits your needs. Metal frames are typically more durable, while plastic frames are usually lighter and more comfortable.

You'll want to consider the style of the thin frame and the renowned silver frames.
Oakley offers a wide variety of styles, so you're sure to find a pair that suits your taste. With so many options available, there's no reason not to find the perfect pair of Oakley cartridge frames.
Where Can You Find The Best Deals on Oakley OX5137 Cartridge Eyeglasses?
There's no shortage of places to find deals on Oakley OX5137 Cartridge Eyeglasses. But if you want the best possible price, you'll need to do a little bit of research. Start by checking out the official Oakley website. They often have sales and special offers that can save you significant money and can be even worn with contact lenses. You should also sign up for their email list to be notified about upcoming sales and promotions for a price match guarantee.
They typically have a wide selection of Oakley prescription glasses at very competitive prices. Check out the customer reviews before making your purchase to be sure you're getting a quality product.
Finally, don't forget to check your local optical store. They may not always have the best prices, but they typically offer coupons and other discounts to save money on your purchase. With a little bit of effort, you should be able to find some fantastic deals on Oakley OX5137 Cartridge Eyeglasses.
How Much Do Oakley Prescription Eyeglasses Cost?
Oakley prescription eyeglasses can be quite costly depending on where you purchase them and what features you desire. For example, if you want frame colors other than black, brown, or tortoiseshell, you may have to pay a bit more. In addition, if you require lenses that filter out blue light or offer other specialized features, the cost of your glasses will increase.
However, Oakley offers a wide variety of frames and lenses to suit any budget, so it is possible to find a stylish and affordable pair of prescription eyewear. With some research, you can find the perfect pair of Oakley at a price that suits your needs.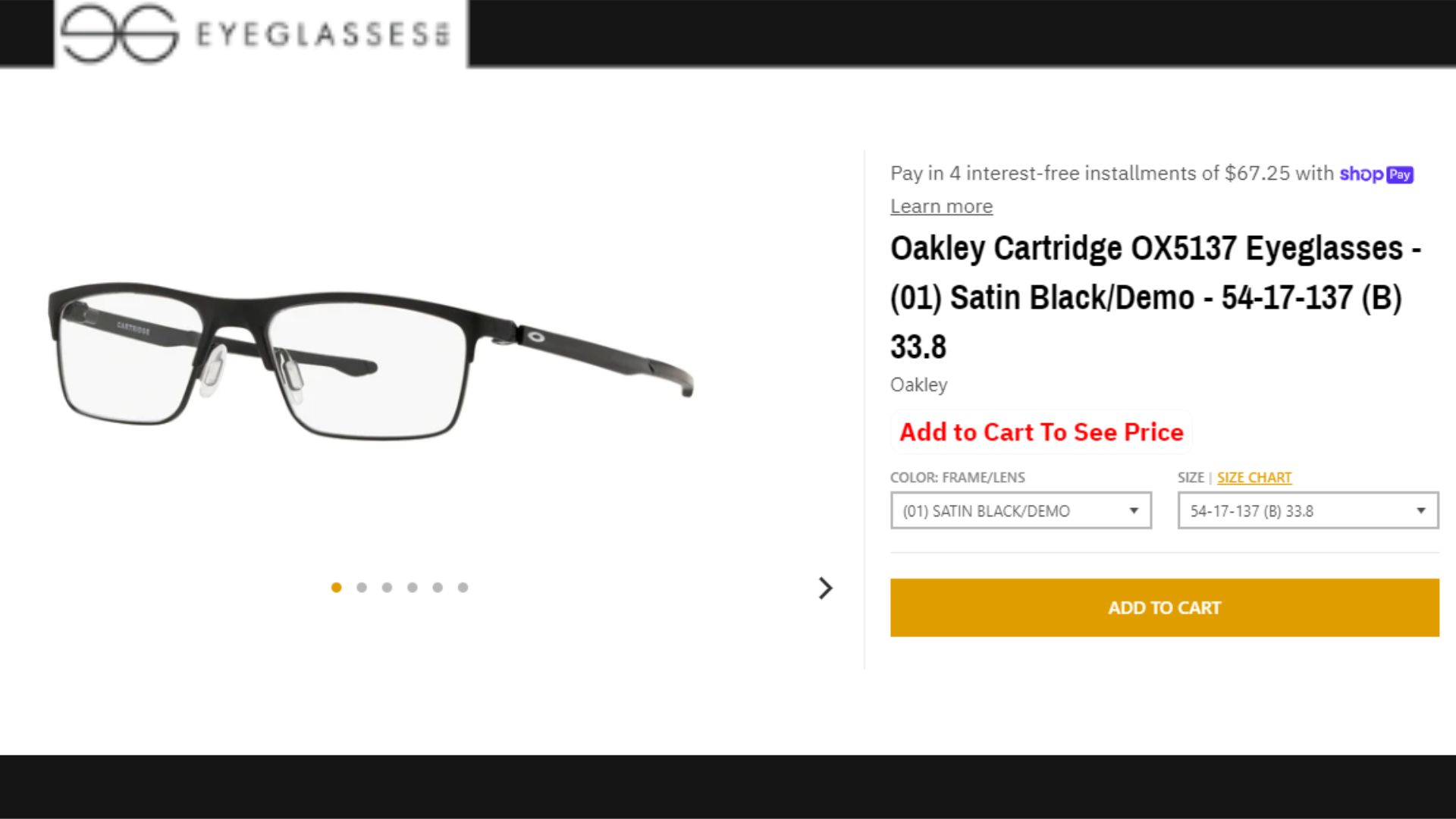 Thoughts
Oakley cartridge eyeglasses are popular among professionals because they offer high protection and durability. The lenses are resistant to scratches and smudges, and the frames can withstand a great deal of wear and tear. Oakley cartridge glasses may be the right choice if you're looking for a pair of eyeglasses that will last. Before you make your final decision, however, be sure to take into account all of your needs and preferences.
There are many different styles and colors available, so you should be able to find a pair that suits your taste and personality. Once you've found the perfect pair, take care of them so they'll last for years to come.