How Good Are the Oakley Currency Eyeglasses?
Oakley is a well-known brand for sunglasses, eyeglasses, and other sporting equipment. The company also produces a line of eyeglasses called Currency. So, how good are these glasses?
The Oakley Currency eyeglasses are made with high-quality materials. The lenses are distortion-free, and the frame is comfortable to wear. The glasses come in various colors and styles to suit different tastes. Oakley also offers a wide range of prescriptions for the lenses. Overall, the Oakley Currency eyeglasses are an excellent choice for high-quality and stylish glasses.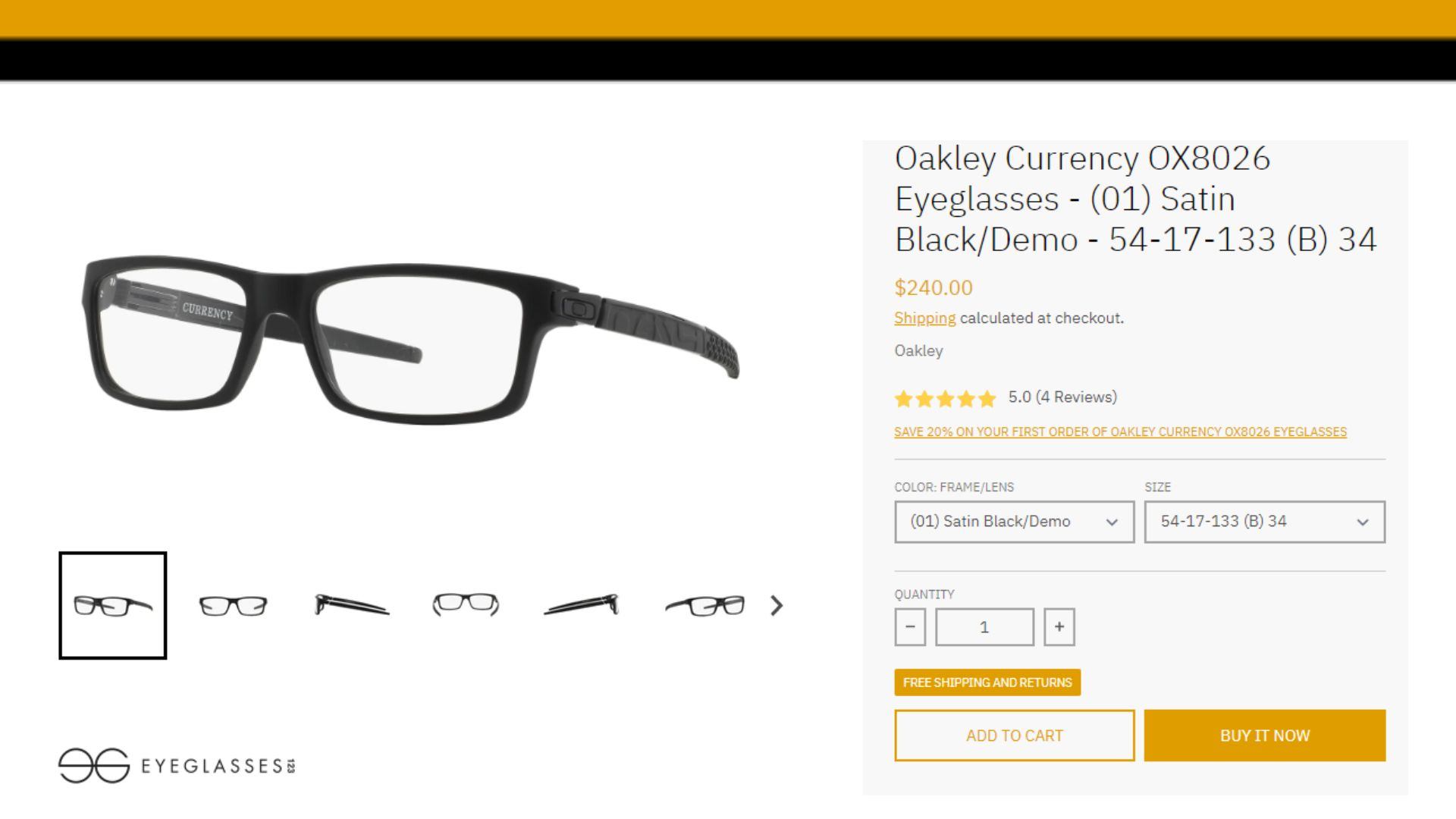 Why Do People Love The Oakley Currency Eyeglasses?
There are many reasons why people love Oakley Currency eyeglasses. For starters, they are made with high-quality materials designed to last. The lenses are also scratch-resistant and offer 100% protection from UV rays. Furthermore, the Oakley Currency eyeglasses are available in various styles that suit any taste. Whether you're looking for a classic look or something more modern, you'll be able to find the perfect pair of glasses to suit your needs. Oakley currency eyeglasses 
Additionally, the Oakley Currency eyeglasses have a wide range of features that make them even more appealing. For instance, they feature adjustable nose pads and temple tips that allow for a custom fit. They also have spring hinges that provide extra comfort and durability. Overall, it's easy to see why the Oakley Currency eyeglasses are so popular. With their combination of style, function, and comfort, they offer everything you could want in a pair of glasses. Oakley Currency eyeglasses So, if you're looking for a new pair of glasses, check out Oakley Currency. You won't be disappointed! 
Are the Oakley Currency Glasses Good for Everyday Use or Just for Special Occasions?
Some people may only pull out their Oakley currency glasses for special occasions, but others find them perfect for everyday use. It depends on personal preference and what type of event you typically attend. If you're the type who rarely steps out of the house, then Oakley currency glasses might not see much action. But if you're constantly on the go and attending different events, then Oakley Currency Glasses can come in handy also with a bike grip invention. They can add a touch of sophistication to your look with a high nose bridge and make you stand out in a crowd with the color of Currency satin black. Whether you use them daily or just for special occasions with contact lenses, Oakley currency glasses are a great way to accessorize with injected frame shape and twin shock.
Do the Oakley Currency OX8026 Offer Good Protection From the Sun?
The Oakley Currency OX8026 sunglasses are designed to offer good protection from the sun. The lenses are made of a lightweight polycarbonate material that is treated with an anti-reflective coating. This helps to reduce glare and improve visibility. The frames are made of durable metal designed to withstand impact. The earpieces are adjustable so that you can get a custom fit. The nose pads are also flexible to get a comfortable fit. The OX8026 Currency glasses come with a microfiber cleaning cloth and a carrying case and vintage logo.
How Much Do The Oakley OX8026 Cost Compare to Other Oakley Eyeglasses?
The Oakley OX8026 costs $225, which is in the middle to high range for Oakley eyeglasses. However, the OX8026 Oakley currency frames is a premium product with acknowledge laser protective lenses, and its features reflect that. They are made with Oakley's patented HDO lens technology, which gives the user clearer vision by filtering out 99% of blue light. In addition, the lenses are impact resistant and have 100% UV protection. The frame is also made from high-quality materials, and the earpieces are adjustable for a comfortable fit. Overall, the OX8026 is a well-made product that is worth its price tag.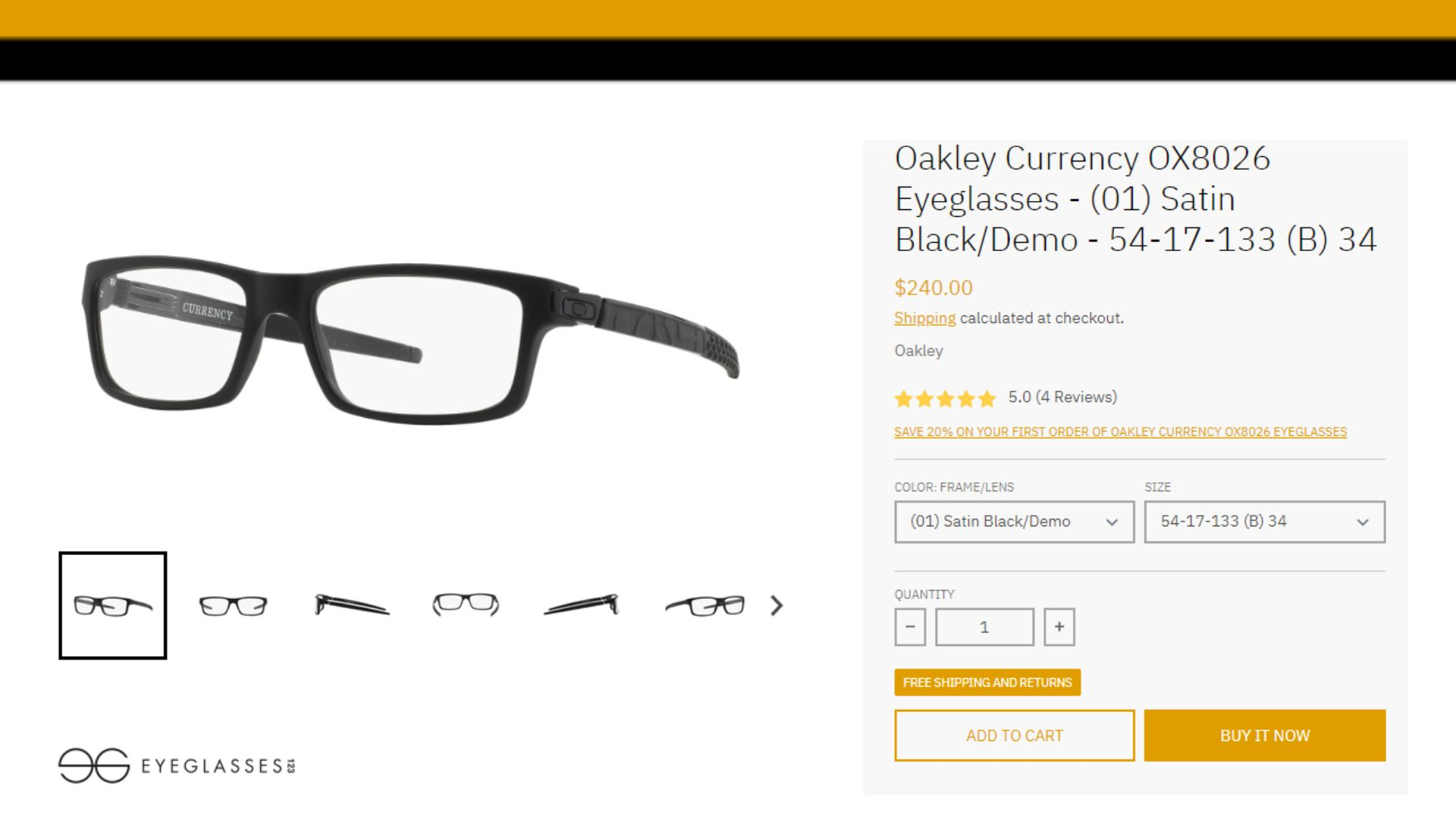 What Inspired the Design of the Oakley Currency OX8026 Eyeglasses?
The Oakley Currency OX8026 eyeglasses are inspired by the classic design of the American dollar bill. The currency symbol is prominently featured on the temples, while the frame is shaped like a billfold. The result is a sleek, elegant frame that will turn heads. In addition to its stylish good looks, the Oakley Currency OX8026 is also designed to provide superior comfort and performance to the Oakley prescription frames. The Oakley Currency ox8026 features a lightweight titanium construction, and the lenses are treated with an anti-reflective coating. As a result, the Oakley Currency ox8026 is an ideal choice for those who want both style and function in their Oakley authentic prescription lenses eyewear.
What Makes The Frames of Oakley Currency Eyeglasses Unique?
The Oakley Currency frames are a unique selling proposition in the eyewear industry. Unlike most other Oakley products, the Oakley Currency frames come with a few key features that make them stand out. First, the Oakley Currency frames have a slightly larger frame size than most other Oakley products. This makes them more comfortable for people with more prominent faces. Second, the frames have a titanium frame material. This makes them much lighter and more durable than other Oakley products or prescription sunglasses. Third, the frames come with a 6-base lens curvature. This gives them a wider field of vision and helps prevent eye fatigue. Overall, the Oakley Currency frames are an excellent choice for people who want a durable, lightweight, and comfortable pair of eyeglasses.
Do Oakley Currency Glasses Offer a Good Value For the Price?
Oakley currency prescription glasses are designed to be both stylish and functional. The frames are lightweight and durable full rim frames, and the lenses are treated with an anti-reflective coating that helps reduce eye fatigue. The glasses also come with a carrying case and a cleaning cloth. Oakley offers a one-year warranty on the glasses, and the company offers a satisfaction guarantee. Overall, Oakley Currency prescription glasses offer a good value for the price product frame material. The glasses are well-made and come with several useful features. The warranty and satisfaction guarantee provides peace of mind, stress-resistant, comfortable eyewear, and a reputable company back the glasses compared to vision insurance companies.
How Do I Find Good Deals on Oakley OX8026?
Oakley OX8026 is a stylish and practical choice for eyewear. They offer excellent protection from the sun and have a timeless look suitable for both men and women. However, finding good deals on Oakley OX8026 can be difficult. There are a few things to remember when looking for the best price on these sunglasses. First, it is essential to check multiple stores before making a purchase. Not all retailers sell Oakleys at the same price, so it is essential to compare prices before making a final decision.
It is also worth considering whether you need the latest model. Older versions of the Oakley OX8026 may be available at a discount, so it is always worth checking for these deals from the launched Oakley. By following these simple tips, you can be sure to find the best possible price on your next pair of Oakley with out-of-network benefits like most vision insurance plans offer.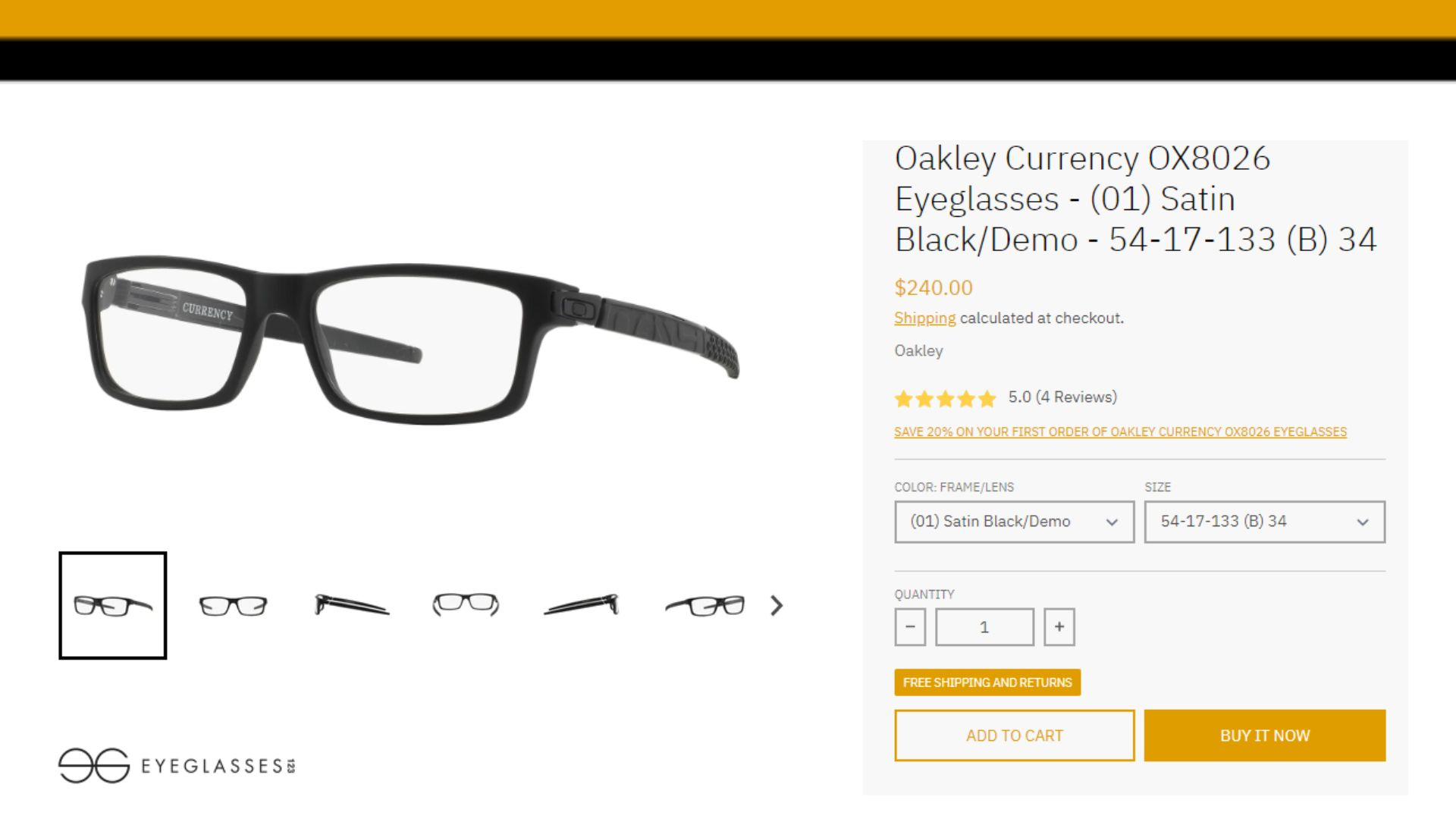 Final Thoughts
Oakley currency eyeglasses are an excellent choice for quality and style. They are made with high-quality materials and construction and offer various options to fit different face shapes. With so many choices available, knowing where to start when looking for a pair of Oakley can be challenging. However, there are some things you can keep in mind that will help you find the perfect pair of glasses for your needs. Eyeglasses123.com has a lot to offer; check it out now!