How Good Are The Oakley Holbrook Sunglasses?
Oakley Holbrook are some of the best sunglasses on the market. They offer 100% UV protection, they are shatterproof, and they have a lightweight design. They also come with a lifetime warranty against defects. Overall, Oakley Holbrook sunglasses are an excellent choice for anyone looking for high-quality sunglasses. They provide great protection from the sun and they are very durable. Plus, they come with a lifetime warranty, which is a testament to their quality.
What Style Are Oakley Holbrook Sunglasses?
The Oakley Holbrook sunglasses are a style of sunglasses that were created by Oakley, Inc. They were first released in 2007, and they have been very popular ever since. The Holbrooks are designed to look like a classic pair of aviator sunglasses, but with some modern twists. 
The lenses of the Oakley Holbrooks are made from Plutonite, which offers 100% protection from all UV rays. The frames are made from O-Matter, which is a lightweight yet durable material. And the nose pads and ear socks are made from Unobtainium, which helps to keep the glasses in place even when you're sweating.
Are Oakley OO9102 Holbrook Sunglasses Safety Rated?
Oakley OO9102 Holbrook Sunglasses are not just regular sunglasses. They have gone through rigorous testing to ensure that they meet the highest safety standards. In order to be considered safety rated, sunglasses must pass a number of tests, including impact resistance and UV protection. 
Oakley OO9102 Holbrook Sunglasses have passed all of these tests with flying colors, making them some of the safest sunglasses on the market today. If you are looking for a pair of sunglasses that will keep you safe while you are out and about, then Oakley OO9102 Holbrook Sunglasses are the perfect choice for you.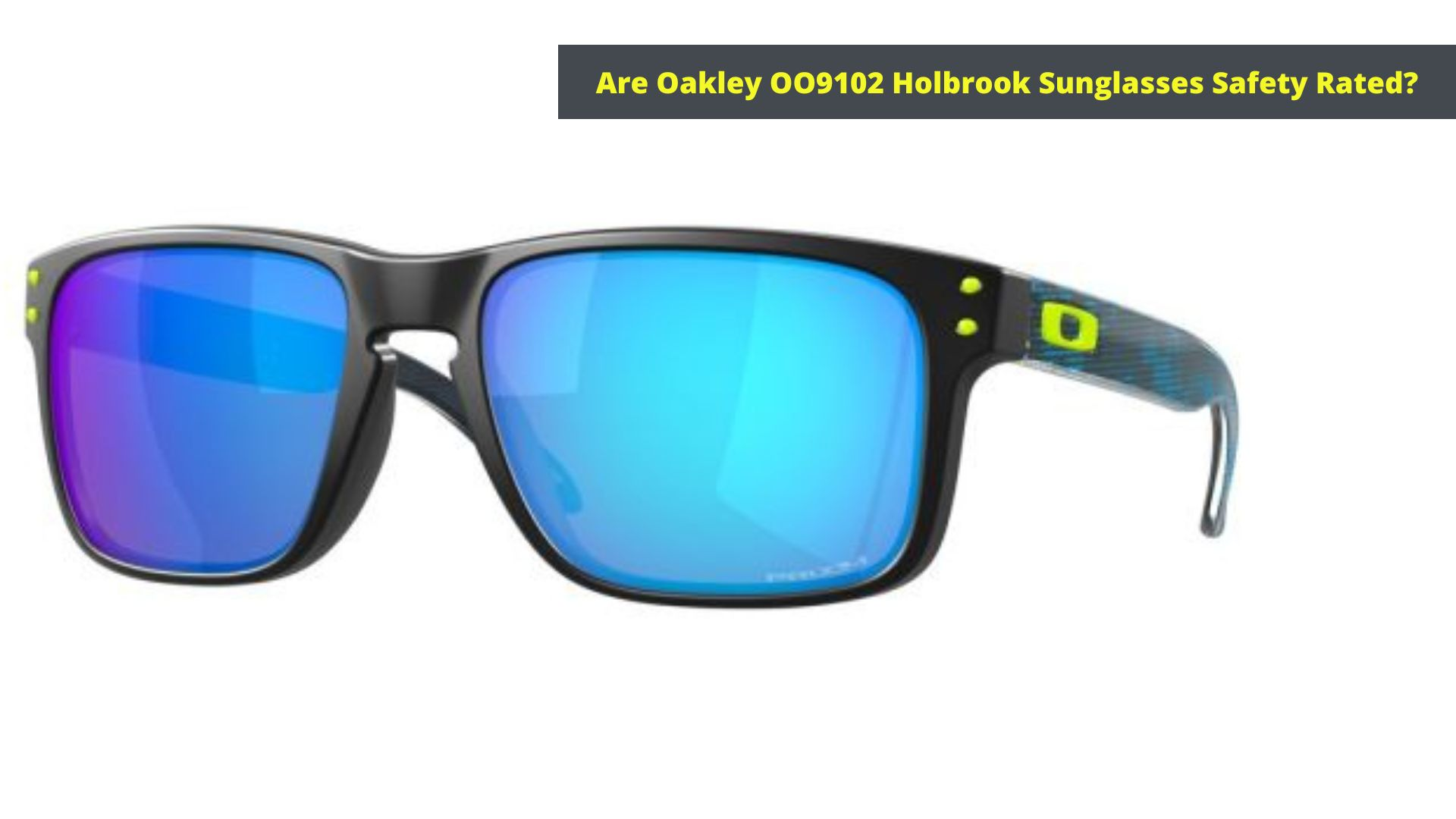 How Durable Oakley Holbrook OO9102 Sunglasses Are?
Oakley Holbrook OO9102 are durable. Oakley is a brand known for durability and high-quality construction, and the Holbrooks are no exception. They are made with a lightweight, stress-resistant frame material called O Matter and have lenses treated with an anti-scratch coating.
In general, sunglasses should be replaced every year or two to maintain optimal protection from the sun's UV rays. However, if you take good care of your Oakleys and don't abuse them, they should last longer than that. So if you're looking for a pair of sunglasses that will last you for years to come, the Oakleys Holbrook OO9102 would be a good choice.
How Big Are Oakley OO9102 Holbrook Sunglasses?
Oakley OO9102 Holbrook sunglasses are a bit on the larger side, but they definitely pack a punch when it comes to style and function. The lenses are some of the biggest we've seen on a pair of sunglasses, and they really do provide great coverage and protection from the sun. They're also perfect for those with large heads, as they won't feel too snug or tight.
Additionally, the frame is made of durable material that can take a beating - perfect for active types who need sunglasses that will stay put. All in all, we think Oakley hit it out of the park with the OO9102 Holbrooks - they're stylish, functional, and just plain cool.
Are the Oakley OO9102 Sunglasses Good for Everyday Use?
If you're looking for a pair of sunglasses that you can wear every day, the Oakley OO9102 glasses may be a good option for you. These sunglasses are designed to offer both style and function, and they come in a variety of different lens and frame color options to suit your personal taste.
The lenses are made from high-quality Plutonite material, which blocks 100% of harmful UV rays, and the frame is lightweight yet durable. Plus, the OO9102 glasses come with Oakley's patented Three-Point Fit technology, which helps to give them a comfortable and secure fit.
Can You Adjust Oakley OO9102 Holbrook?
Oakley OO9102 Holbrook can be adjusted to fit a wide variety of facial shapes and sizes. The adjustments are made by bending the nose pads and temples. The first step is to identify the type of adjustment you need to make. Nose pads can be bent inward or outward, while temples can be bent up or down.
Use your fingers to gently bend the desired part of the frame until you achieve the desired fit. Be careful not to apply too much pressure, as this could damage the frame. If you have difficulty making the adjustment yourself, take your glasses to an optical store for assistance.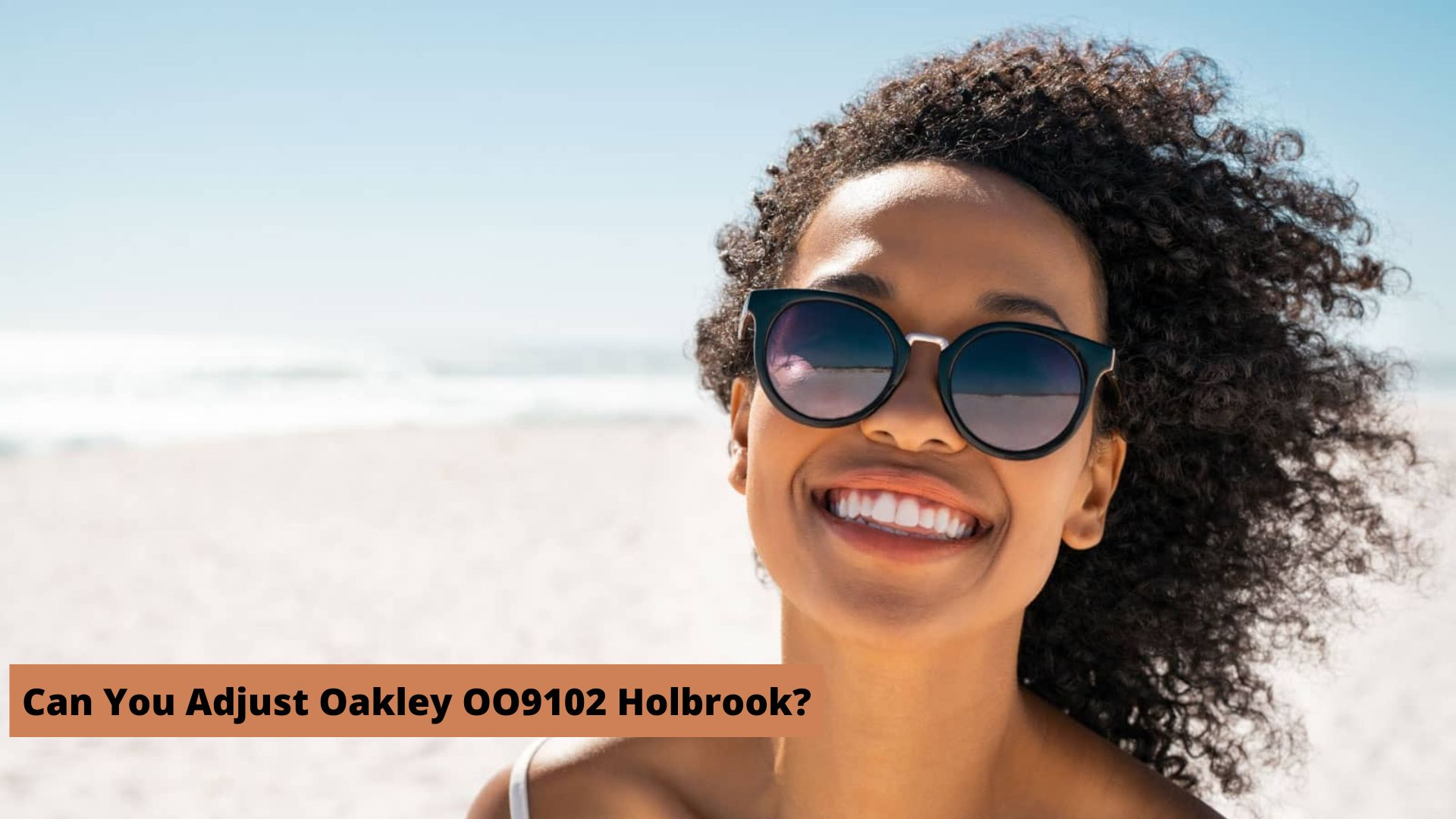 Are Holbrook OO9102 Sunglasses Polarized?
The Holbrook OO9102 are polarized. The lenses of sunglasses help protect your eyes from the sun's UV rays, and polarized lenses also reduce glare. This is especially helpful when driving or playing sports.
The Holbrook OO9102 Sunglasses are a great choice for anyone who wants to protect their eyes from the sun while still looking stylish. With their iconic American frame design and cool mirrored lens, these sunglasses will complement any outfit. And with 100% UV protection and a polarized lens, you can be sure that your eyes will be well protected against the sun's harmful rays.
How To Keep Your Holbrook Oakley Sunglasses Clean?
There are a few things you can do to keep your Holbrook Oakley sunglasses clean. First, make sure to always store them in the case when you're not wearing them. This will help protect the lenses from scratches. Second, use a microfiber cloth to wipe away any fingerprints or smudges. You can also use lens cleaner and spray it on the cloth before wiping the lenses.
Third, if your lenses get really dirty, you can remove them and wash them with mild soap and water. Just be sure to let them air dry before putting them back in the frames.
Thoughts
Oakley Sunglasses Holbrook are a great choice for anyone looking for a stylish and durable pair of sunglasses. These glasses have been safety rated and can be adjusted to fit most face sizes. They are also polarized, which means they will reduce the amount of glare you see while wearing them. To keep your sunglasses in good condition, we recommend cleaning them with a soft cloth regularly.