What Are the Benefits of Using Crizal Lens Cleaner Spray?
Crizal lens cleaner spray is a product that is designed to clean eyeglasses and sunglasses. It is available in various sizes, making it convenient to take. Crizal lens cleaner spray effectively removes dirt, dust, and smudges from lenses, leaving them clean and clear. Additionally, it helps to protect the lenses against scratches and other damage. If you are looking for a reliable and effective way to clean your glasses or sunglasses, then Crizal lens cleaner spray is a great option.
How Does a Lens Cleaner Spray Work?
A lens cleaner spray is a specially formulated solution to remove fingerprints, smudges, and other debris from eyeglass lenses. The solution is typically made from alcohol, soap, and water. When the solution is applied to a lens, it breaks up the oils and dirt clinging to the surface. The alcohol then evaporates, leaving the lens clean and streak-free. Lens cleaner sprays can also be used on sunglasses, camera lenses, and other types of optical glass. In addition to removing dirt and debris, lens cleaner sprays can help prevent fogging and static build-up.
To use a lens cleaner spray, hold the bottle about 6 inches away from the lenses of your glasses or sunglasses. Next, spray a small amount of the liquid onto the lenses and then use a soft cloth to wipe them clean. Make sure to avoid spreading the cleaner directly into your eyes.
Is it Safe to Use Crizal Eyeglasses Cleaner Spray on a Daily Basis?
The Crizal Eyeglass Cleaner is a safe, effective way to clean your glasses daily. The cleaner comes in a convenient spray bottle and can be used on all types of lenses, including anti-reflective lenses. The cleaner contains no alcohol or abrasives, so it will not damage your lenses or leave any streaks or residue. In addition, the cleaner is safe for use on all skin types. Spray the cleaner onto your lenses and wipe away any dirt or debris. Use Crizal Eyeglass Cleaner daily to keep your glasses clean and streak-free for the best results.
Crizal is a leading brand of eyeglass cleaner used by optometrists and eyeglass wearers worldwide. The company's cleaner is designed to remove dirt, debris, and greasy smudges from lenses, making them look new. However, some people have concerns about using Crizal daily. While the cleaner is safe for most people, those with sensitive skin or allergies may want to avoid using it daily. In addition, Crizal should not be used on contact lenses or other ocular devices. 
Are There Any Side Effects of Using the Lens Cleaner Spray Every day?
A lens cleaner is a lens solution used to clean eyeglasses and contact lenses. Lens cleaners typically contain surfactants and deterrent agents that help to remove dirt, debris, and oil from the lenses. Some lens cleaners may also have disinfectants that help to kill bacteria and viruses. Some lens cleaners are designed for specific types of lenses, such as those made of silicone or PVC. 
Lens cleaning solutions with microfiber cloth are available in both liquid and aerosolized forms. Most lens cleaners are safe for daily use. However, some lens cleaners may irritate the eyes if they come into contact with them. Lens cleaner sprays should be used according to the manufacturer's instructions. Avoid buying cheap products cloth and spray Crizal to avoid the wrong lens cleaning solution and to avoid damaging sharper vision or crisp vision.
What Makes Crizal Lense Cleaner Spray Different From the Rest?
Crizal is a glass lens cleaner spray different from the rest because it is specifically designed to clean glasses lenses. Most lens cleaners are just general-purpose cleaners that can be used on any glass, but Crizal is specifically designed for lens use. This means it is more effective at cleaning glass lenses than other cleaners. Furthermore, Crizal is intended to keep the glasses lenses from fogging and smudging. This means your glasses will stay clean and clear longer after using them. Crizal is the best glasses lens cleaner spray because it is designed explicitly for glasses lenses and helps keep them clean and clear.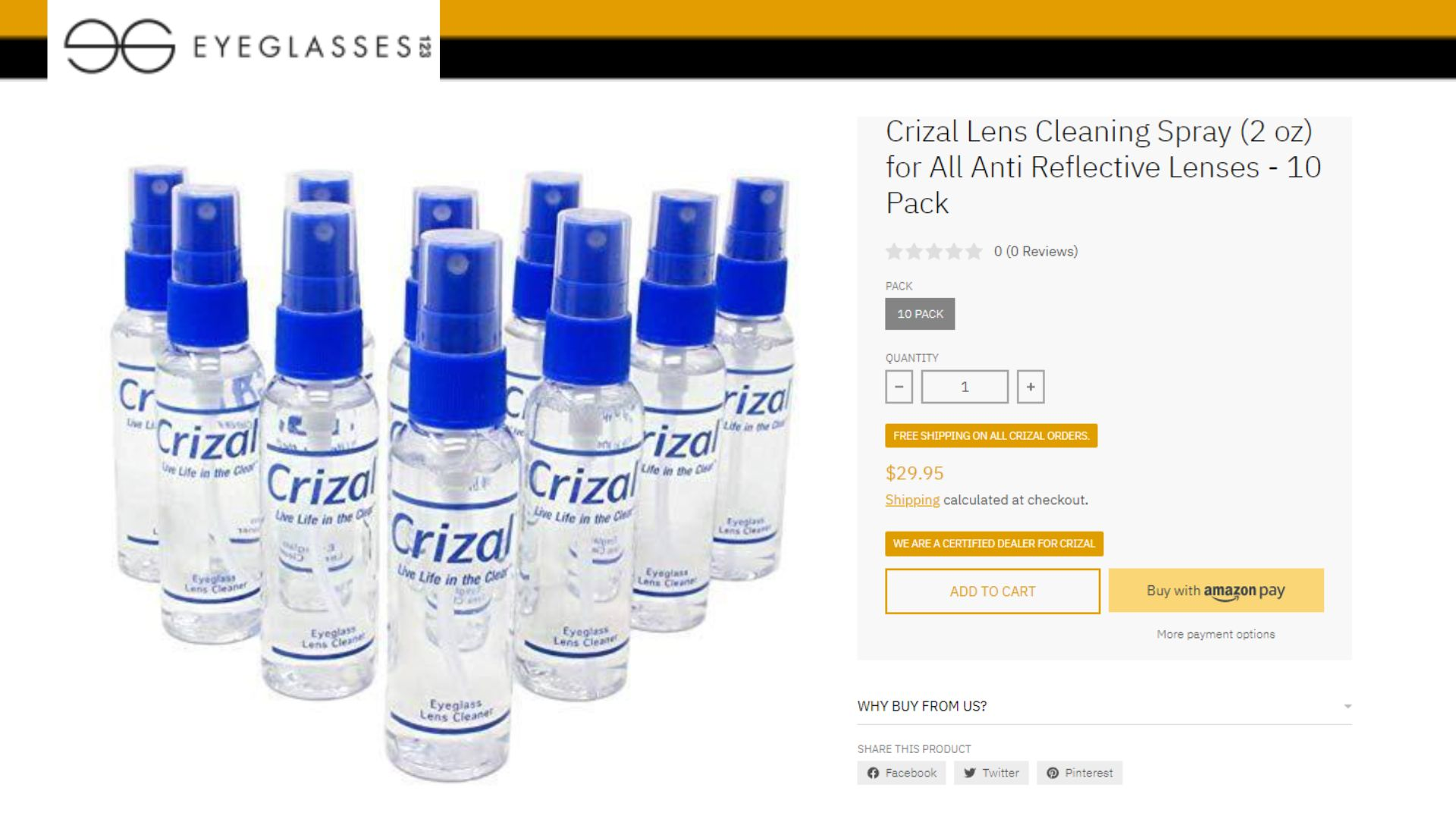 How to Make Sure That The Lens Cleaning Spray Doesn't Contain Harsh Chemicals?
In today's world, we are constantly bombarded with harmful chemicals. From the food we eat to the air we breathe, it's hard to avoid them. But what many people don't realize is that some of the most common household products can also be loaded with chemicals in cleaning more dirty disgusting lenses. This is especially true of lens cleaning sprays. Many popular brands contain harsh ingredients that can damage delicate lenses and irritate your eyes. So how can you ensure that the lens cleaning spray you use is safe?
One way to do this is to choose a Crizal lens cleaning spray. These products are designed to be gentle on lenses and safe for use around the eyes. Crizal cleaning cloth and spray also offer a wide range of solutions for different types of lenses so that you can find one specifically tailored to your needs. Another option is making your lens cleaning spray at home using natural ingredients. This can be a great way to avoid harsh chemicals altogether.
Crizal is a lens coating that helps repel water and resist smudges. To keep your lenses clean, it is essential to use a gentle, alcohol-free lens-cleaning spray. Many commercial lens cleaning sprays contain harsh chemicals that can damage coatings. When shopping for a lens cleaning spray, always check the label to make sure that it is safe for use on lenses. You can also contact the manufacturer directly if you have questions about which cleaning products are safe to use on your lenses.
What if the Lens Cleaner Accidently Gets into My Eyes?
If you wear contact lenses or glasses, you know how important it is to keep them clean. But what happens if the lens cleaner accidentally gets into your eyes?
Most lens cleaners contain ingredients that are safe for use on the eyes, but some can irritate. If you get lens cleaner in your eye, rinse it out immediately with water. If you experience discomfort or redness, try using artificial tears or an ophthalmic ointment. If irritation persists, see your doctor.
You can do a few things to avoid getting lens cleaner in your eye in the first place. Be sure to follow the directions on the bottle, and apply the cleaner to your lens cloth rather than directly to your lenses. If you wear glasses, be careful not to get any cleaner on the frames, as this can also irritate them. With proper care, you can keep your lenses clean and clear—and avoid accidental exposure to lens cleaner.
What Kind of Fragrance Does Crizal Lense Cleaner Spray Have?
A Crizal lens cleaner is a type of cleaning solution that is designed specifically for cleaning eyeglasses and sunglasses. One of the main features of this cleaner is that it is designed to leave a streak-free finish. In addition, the cleaner is also designed to have a pleasant fragrance. So, what kind of fragrance does Crizal lens cleaner spray have?
Typically, Crizal lens cleaner has a light floral scent. This helps to leave your glasses smelling fresh and clean. However, some people may not enjoy the floral scent. If this is the case, you can always opt for another scent. A variety of Crizal lens cleaners on the market come in different scents, so you should be able to find one that you like. Whether you prefer a light floral scent or something else, Crizal lens cleaner can help keep your lens outer layer of glasses clean and the anti-reflective lenses improve for looking great.
What is the Best Place to Buy Crizal Products?
Eyeglasses123.com is the best place to buy Crizal products for several reasons. First, they offer a wide selection of Crizal products, including anti-reflective coatings, photochromic lenses, and polarized sunglasses. They also provide free shipping on orders over $50 and have a 100% satisfaction guarantee. In addition, Eyeglasses123.com offers a variety of helpful resources, such as a sizing guide and a virtual try-on tool. With so many great features of the lens cleaners manufactured, it's easy to see why they are the best place to buy the only lens cleaners Crizal products.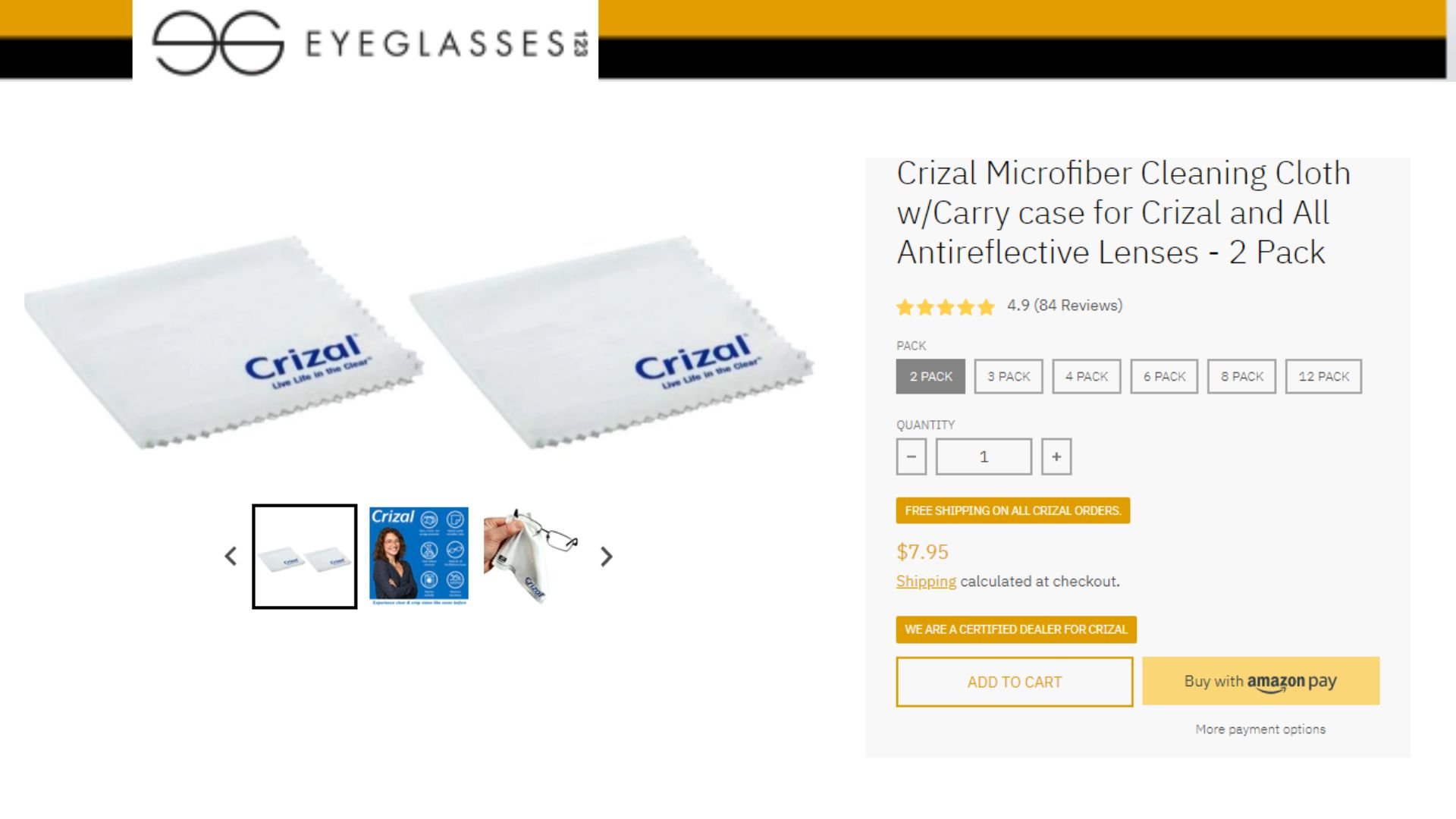 Thoughts
Crizal Lens Cleaner Spray is a great way to clean your lenses and keep them in good condition. This product cleans your lenses and helps prevent scratching and smudging of dirty disgusting lenses. It is important to note that this product should only be used on lenses; using it on other types of lenses may damage them. This cleaner is an excellent option if you are looking for an easy and convenient way to clean your lenses.